The California Oil Company Museum is an educational and historic site located in the Union Oil Building in Santa Paula, California. Displays span subjects from oil history, its uses, the development of oil drilling technology, and the companies that distributed it.  The museum is open to the public with a suggested $4 donation per person.
Santa Paula is a logical location for such an oil history museum.  Along with being the "Citrus capital of the world" Santa Paula was one of the early capitals of the petroleum industry in California.  Oil was already being drilled in Santa Paula in the late 1800s.  Several of these oil operations would be combined to create the Union Oil Company in 1890.  The founding headquarters is now a National Register Historic Site, notable not only for it's place in oil history but for its Victorian-Queen Anne architecture.  Along with the California Oil Museum on the main floor, the second floor holds offices which have been renovated to look like the 1890 corporate headquarters. Visitors must schedule a tour to view the second floor.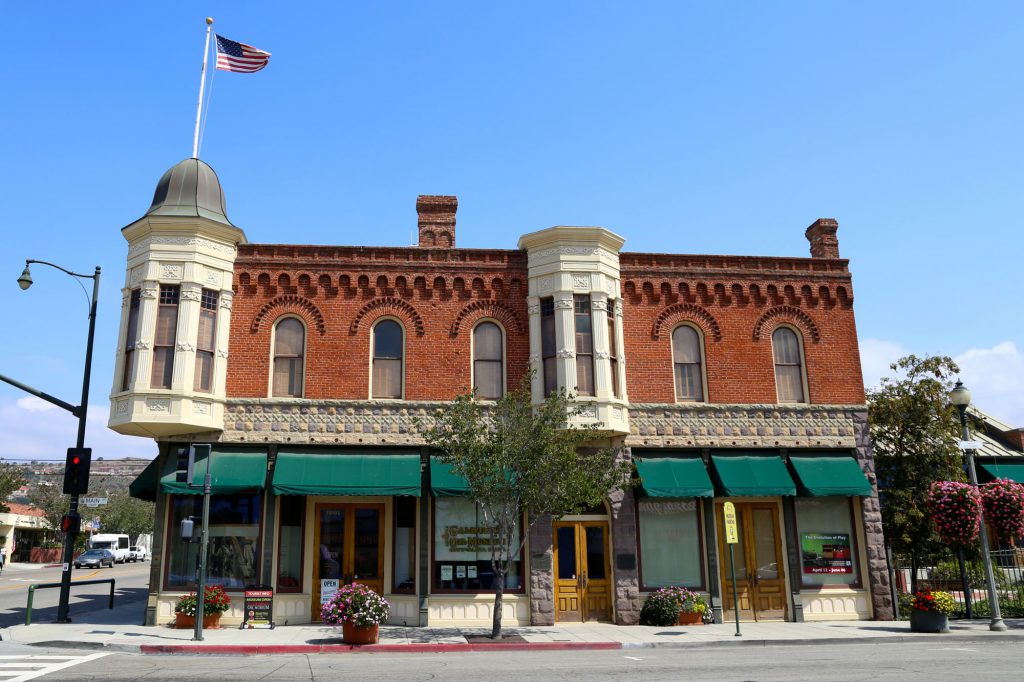 On entering the museum, visitors are first presented with a history of oil, with displays on it's origin and uses. Fossils and core samples demonstrate the early carbon-based flora and fauna that have broken down over thousands of years to create the crude oil. In another display, visitors see how, even before the automotive industry, oil was for consumer product as waterproofing, medicines, and lamp fuel.
The museum features a series of scale model drilling rigs, pumps, and refineries with explanations of their roll in the advancement of oil drilling technology. Several displays highlight what is going on below the surface of both land and underwater oil exploration and drilling and how crude oil is processed for use in consumer products.
Of course, what is oil without the companies to collect, market, and distribute it? As the museum's marketing display explains, in the early days of the automotive, fuel for these early cars was bought and sold at hardware stores and other non-specific locations.  This fuel had inconsistent qualities. The resulting lack of confidence in the fuel was one of the concerns that sparked the creation of filling stations managed by the oil companies and featuring their product. Promotional advertising focused on the reliability, quality, and performance of the respective brands of gas.
Of special note is the authentic 1890s drilling rig which has been restored.  It can be easy to overlook this display, as it is in a separate building in the museum compound. But it is not to be missed! Visitors can watch the operating rig with a recorded explanation of the rig and it's process.